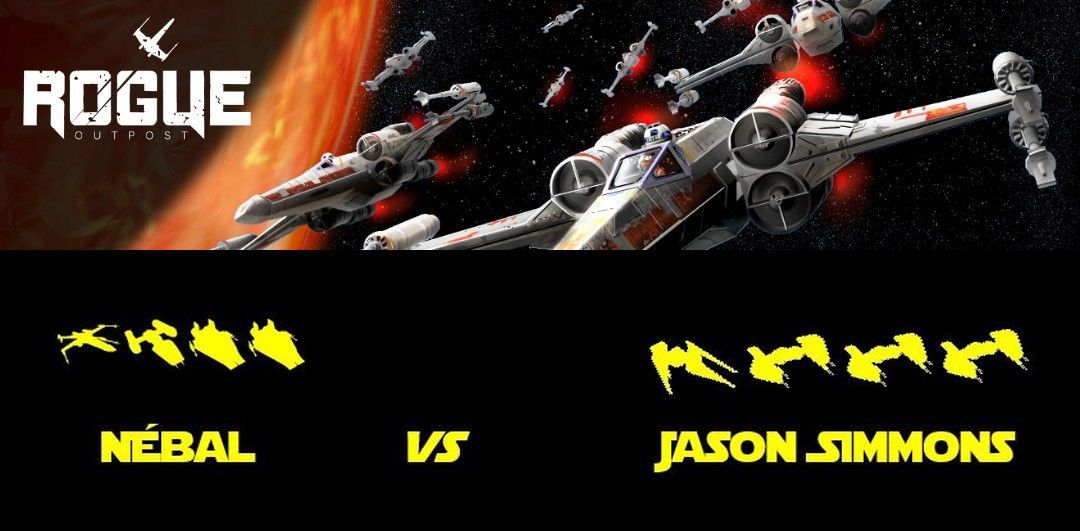 Rogue Outpost Weekly League season 3 round 5! And a new battle report in English. Of course, I'm French, so I'm genetically designed to speak and write an awful English… Please be kind!
This league, run by the Rogue Outpost from the UK, is a casual competition with a fun twist: for each round there are specific list building rules. There they are:
Round 1: your squad cannot contain small base ships and can only contain one large base ship.
Round 2: your squad cannot use upgrades. This includes configurations.
Round 3: your squad must be Hyperspace legal.
Round 4: each player must bring six obstacles. When placing obstacles ignore standard placement rules.
Round 5: your squad cannot be from a faction you've used in weeks 1-4 and each ship must carry a device, missile or torpedo.

Round 6: using the YASB "Multi-Faction" option, you list must include ships from at least three factions.
I really like this kind of tournaments that compel players, most of the time, to be creative and not rely on the current meta, which can be quite boring after some time. And I really enjoyed season 2.
For this fifth round, therefore, I couldn't play Galactic Empire, Scum and Villainy nor First Order, having played them before during the league. And we had to fit missiles, torpedoes or devices on each ship…
I have been paired with Jason, a very nice player from the UK, who brought the following First Order list, with the new ships of Fury of the First Order:
TIE/wi Whisper Modified Interceptor – •Kylo Ren – 70
•Kylo Ren – Supreme Leader of the First Order (63)
Proton Rockets (5)
Enhanced Jamming Suite (0)
Predator (2)
TIE/se Bomber – First Order Cadet – 43
First Order Cadet (32)
Ion Torpedoes (4)
Proximity Mines (6)
Feedback Ping (1)
TIE/se Bomber – First Order Cadet – 43
First Order Cadet (32)
Ion Torpedoes (4)
Proximity Mines (6)
Feedback Ping (1)
TIE/se Bomber – First Order Cadet – 43
First Order Cadet (32)
Ion Torpedoes (4)
Proximity Mines (6)
Feedback Ping (1)
Total: 199/200
As for myself… I played Rebels. And I feel dirty…
T-65 X-Wing – •Wedge Antilles – 66
•Wedge Antilles – Red Two (54)
Plasma Torpedoes (7)
Servomotor S-Foils (0)
R2 Astromech (5)
BTL-A4 Y-Wing – •"Dutch" Vander – 55
•"Dutch" Vander – Gold Leader (40)
Concussion Missiles (6)
Proximity Mines (6)
R3 Astromech (3)
RZ-1 A-Wing – •Sabine Wren – 40
•Sabine Wren – Daughter of Mandalore (35)
Proton Rockets (5)
RZ-1 A-Wing – •Jake Farrell – 39
•Jake Farrell – Sage Instructor (34)
Proton Rockets (5)
Total: 200/200
Now to the game.
BEWARE: RIGHT AFTER THIS OMINOUS DARTH VADER PICTURE, I WILL REVEAL HOW THE GAME TURNED OUT. IF YOU DON'T WANT SPOILERS, WATCH THE VIDEO BEFORE READING FURTHER!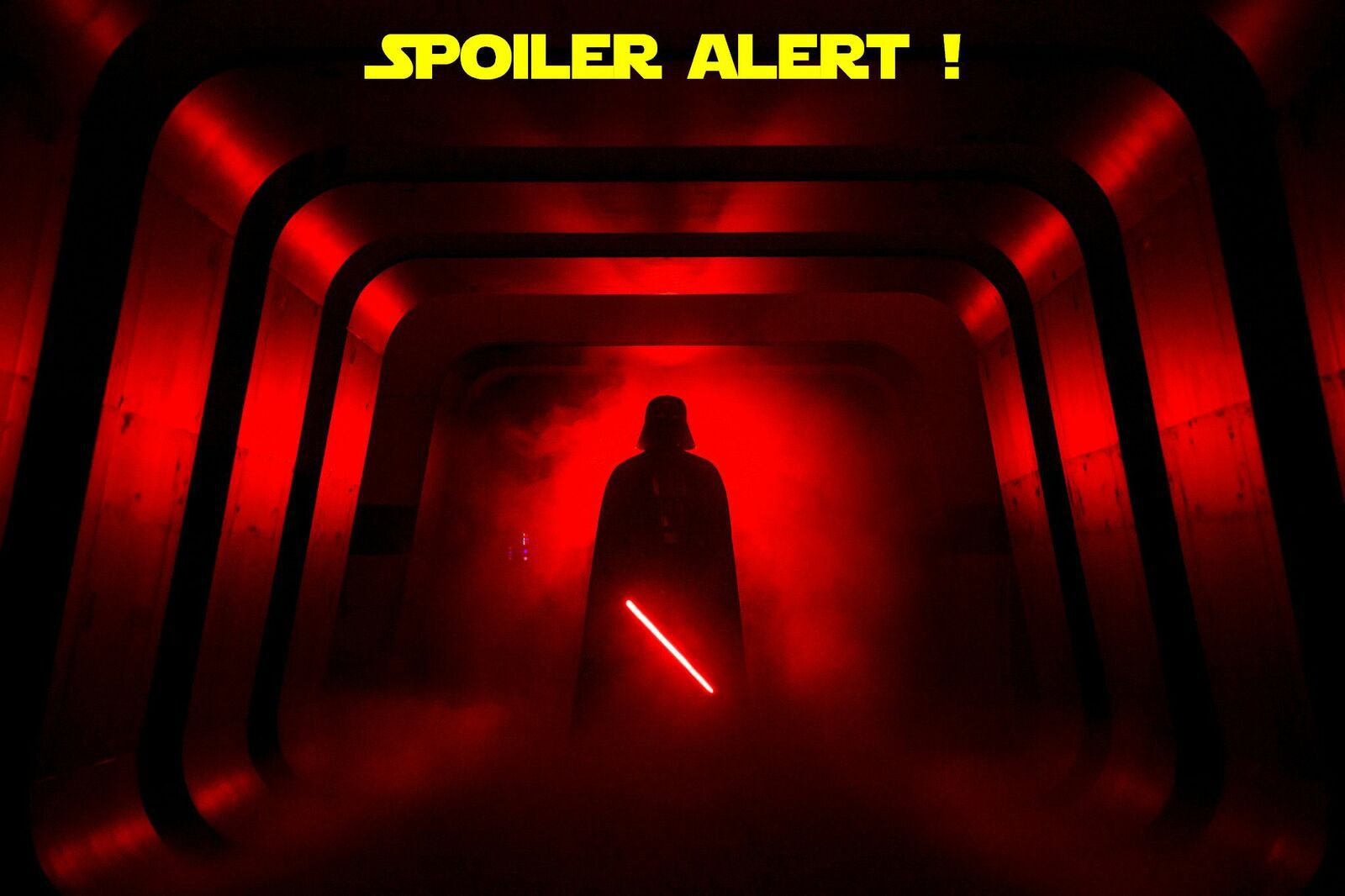 Victory for the Rebel Alliance, 200-75!
That's weird, I'm not used to celebrate when the Filthy Rebels win… The game was a bit weird, actually, and but for Wedge Antilles, I didn't really make use of the special abilities of my pilots nor their upgrades. It worked nonetheless, with my A-Wings, Jake more precisely, obtaining some useful blocks, damaging Kylo and then allowing me to take each First Order Cadet at a time and initiative-kill them. Wedge proved really useful regarding this, to be sure. And I had good dices, whereas Jason's were not that good. He wasn't used to fly those very recent ships, and I couldn't blame it for that (I should try them, weird that I haven't at this time); Kylo especially was probably too aggressive, and preventing his jam actions was huge. Boost and drop for the Cadets is really cool though, and Jason certainly deserved to kill "Dutch" this way.
Good game, Jason, and I wish you the best of luck for the last round!
Because, yes, next round will be the last one. And I'm 3-2 right now (I scored 200-0 for round 4 and certainly didn't expect that, but I haven't recorded the game since my opponent had no mic, too bad…). What strange salad will I play? I honestly have no clue… We'll see!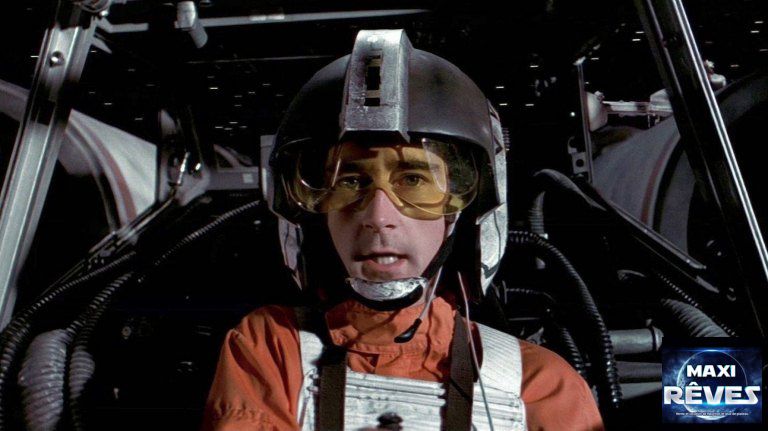 Random Academy Pilot est en partenariat avec la boutique Maxi Rêves, sise à Abbeville (et que vous pouvez aussi retrouver sur sa page Facebook ici) !
Cela signifie que, si vous créez un compte chez Maxi Rêves, vous pouvez contacter le gérant pour l'informer de ce que vous venez de ma part. Cela vous permettra d'obtenir une remise globale de 10 % sur toute la boutique !
Merci à Maxi Rêves pour son soutien !
Et à bientôt...