Kyber Elimination League, season 6, round 4: Nébal (First Order) vs Totem (Separatists) (battle report in English)

Kyber Elimination League, season 6, round 4! And a new battle report in English. Of course, I'm French, so I'm genetically designed to speak and write an awful English… Please be kind!
This season is very different from the previous one, of which I have published all my games a few months ago. This Elimination League has a special rule: some cards, pilots as well as upgrades, are banned, based on surveys of the players. A list of ten banned cards was published at first, but after each round two more cards will be banished. Players therefore don't have to choose a single list for the whole tournament, and can change their list each round, as long as it doesn't feature banned cards.
Here is the list of banned pilots for round 4 (the new ones being in italics):
Hera Syndulla (RZ-1 A-Wing, Rebel Alliance).
Baron of the Empire (TIE Advanced v1, Galactic Empire).
Inquisitor (TIE Advanced v1, Galactic Empire).
Cartel Spacer (M3-A Interceptor, Scum and Villainy).
Kanan Jarrus (HWK-290 Light Freighter, Scum and Villainy).
Rey (Scavenged YT-1300, Resistance).
Jango Fett (Firespray-class Patrol Craft, Separatists).
Zam Wesell (Firespray­-class Patrol Craft, Separatists).
And here is the list of banned upgrades for round 4:
Admiral Sloane (Crew, Galactic Empire).
Count Dooku (Crew, Separatists).
Zam Wesell (Crew, Scum and Villainy/Separatists).
Foresight (Force).
False Transponder Codes (Illicit).
Proton Rockets (Missile)
XX-23 S-Thread Tracers (Missile).
Thermal Detonators (Payload).
So Kanan Jarrus on the HWK shares the same fate as poor Hera Syndulla one week prior: just appeared, already disappeared. That's a bit sad if you ask me… Then Rey as well, which is a bit surprising to me I must say. As rounds go by, top meta cards being almost all banned, the survey produces some weird results. I personally had voted for neither of those, but, whatever…
For this fourth round, I have been paired with Totem, a very nice player from Hungary, who brought the following Separatists list, a lot of beefy murdery droids:
HMP Droid Gunship – •DGS-047 – 43
•DGS-047 – Adaptive Intelligence (35)
Repulsorlift Stabilizers (3)
•K2-B4 (5)
HMP Droid Gunship – Baktoid Drone – 42
Baktoid Drone (34)
Repulsorlift Stabilizers (3)
•DRK-1 Probe Droids (5)
HMP Droid Gunship – Baktoid Drone – 39
Baktoid Drone (34)
Repulsorlift Stabilizers (3)
Ion Missiles (2)
HMP Droid Gunship – Baktoid Drone – 39
Baktoid Drone (34)
Repulsorlift Stabilizers (3)
Ion Missiles (2)
HMP Droid Gunship – Baktoid Drone – 37
Baktoid Drone (34)
Repulsorlift Stabilizers (3)
Total: 200/200
As for myself, well, I brought my Malarus TIE/fo swarm… It's still legal after all!
Xi-class Light Shuttle – •Commander Malarus – 58
•Commander Malarus – Vindictive Taskmaster (45)
•Agent Terex (7)
•Hondo Ohnaka (6)
TIE/fo Fighter – "Scorch" – 33
•"Scorch" – Zeta Leader (33)
TIE/fo Fighter – "Longshot" – 31
•"Longshot" – Zeta Ace (31)
TIE/fo Fighter – Epsilon Squadron Cadet – 26
Epsilon Squadron Cadet (25)
Automated Target Priority (1)
TIE/fo Fighter – Epsilon Squadron Cadet – 26
Epsilon Squadron Cadet (25)
Automated Target Priority (1)
TIE/fo Fighter – Epsilon Squadron Cadet – 26
Epsilon Squadron Cadet (25)
Automated Target Priority (1)
Total: 200/200
Now to the game.
BEWARE: RIGHT AFTER THIS OMINOUS DARTH VADER PICTURE, I WILL REVEAL HOW THE GAME TURNED OUT. IF YOU DON'T WANT SPOILERS, WATCH THE VIDEO BEFORE READING FURTHER!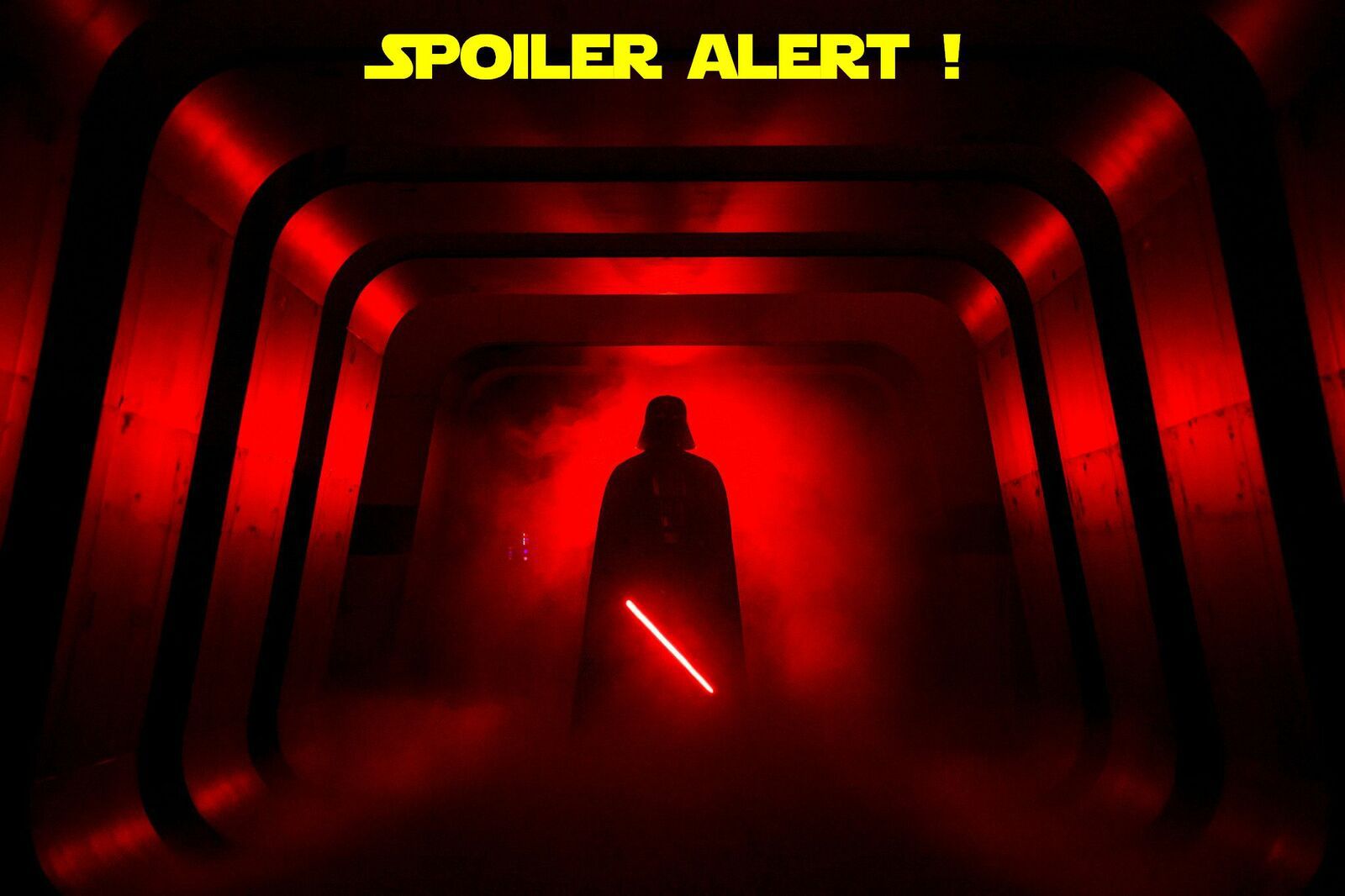 Victory for the First Order, 200-55! Although the game ended prematurely when Totem chose to concede, which is always a bit sad… Well played anyway, Totem, and thank you for the game!
That's Kyber Elimination League, so we don't know what the opponent will play until the very last minute. When I discovered Totem's list, I was kinda thrilled actually, not even considering for the moment the actual matchup: although I've never had a real opportunity to fly them myself, I love HMP Droid Gunships, this is really my kind of ships, and if I were to play Separatists again (which will happen at some time), I think I'd go for a full list of them, just as Totem did. But that was a frightening prospect as well, mainly for three reasons:
1) Not being used to fly or fight them, I was more than a bit concerned by all those sideslips, because I simply didn't realize very well where they would be able to move (which is basically everywhere).

2) All those full frontal arcs would mean I would almost never be able to arc-dodge those droids, and even if blocking the gunships would prove useful to prevent them from locking my ships, they would still get attacks on my swarm anyway.

3) That was a lot of health points to chew through: 8 for each ship, and a grand total of 40 for the entire list!
But the matchup wasn't that bad, I think:
1) My swarm is after all supposed to perform pretty well against a number of beefy lists: yeah, that's a lot of health points, and my ships all have only two dice attacks base (although "Scorch" can almost always roll one more dice, and "Longshot" not that often but regularly anyway), yet with many attacks each turn, Malarus' rerolls, and other mods everywhere, I could certainly take some of those ships (or play with half points at least) by focusing fire, and their low agility value of only 1 would certainly help. As long as I retained numerical superiority, even with one ship only (which is where we started after all), I could hope to do well. But each

TIE/fo

down would hurt, and the loss of Malarus even more, so I shouldn't be too reckless in this regard…
2) My

TIE/fo Fighters

had only half of each Gunship's health points, yes, but they had a far, far better agility value; and all those gas clouds, I thought, would benefit me more than Totem.
3) I certainly knew

HMP Droid Gunships

rely heavily on target locks, and I could, theoretically at least, do some things about that: blocking some of them with my Cadets, so they wouldn't be able to take the target lock action; blasting DRK-1 Probe Droids if able; finally, and that was probably the main thing, although I wasn't sure about that when we started the game, jamming those damn' locks whenever I could, through the Xi­-class Light Shuttle's action, more often through the great Hondo Ohnaka, and maybe in the later game thanks to Agent Terex (Cyborg). And that would indeed prove to be crucial: Hondo especially was infinitely valuable during the whole game (I really love this card…).
Both our lists being 200 points, we rolled to determine who would be first player. I won the roll, and chose to go first, which seems to have surprised Totem quite a bit. And for good reasons: that meant my Epsilon Squadron Cadets would fire before all the gunships, and therefore would quite often suffer strain tokens because of Malarus' compulsory rerolls. I was aware of that, but the thinking was that I could hope to block some of Totem's ships; they would always or so be able to shoot at me, but, if I could forbid at least some of them to perform actions, and especially target lock actions, that could turn in my favour, even if I exposed my Cadets to a lot of fire doing so. Well, they are supposed to be expendable… That was the thinking, at least. I don't know (I almost never do) if it was the good one, but as the game went on, I didn't have to regret having taken this early decision.
As both of us brought gas clouds, there were many of them in the center of the board, where I thought the engagement would happen, as we deployed in the opposite corners. I tended to think that it could go in my favour, as explained earlier, but to be honest I really wasn't sure about that…
Anyway, I flew my ships so that it would happen there… and I certainly was concerned by that literal wall of beefy murdery droids. At first, I couldn't hope to do much damage to Totem's ships, but in the meantime, I thought my green Cadet, even with all those target locks, could sustain a long distance first engagement, and he did perfectly. More crucial was the opportunity for me to blast the first DRK-1 Probe Droid, which indeed happened.
However, I supposed that now would be the time when at least some of Totem's ships would perform sideslips, and I really wasn't sure of where they would go. In the end I decided to bank to the left with most of my ships, while the others would go straight; I hoped this way I could have in arc the gunships which sideslipped to the left as well as those which didn't sideslip at all (my concern was that some of them would sideslip to the right, but I had to commit somewhere…). Yet I did a mistake there: "Longshot" bumped… But "Scorch" as well as Malarus didn't, and that was more important: the Xi coordinated a focus action on "Longshot", the fact he had bumped wasn't that bothering anymore. But as it happened, none of Totem's ships performed a sideslip this turn: they all went straight, hiding behind a gas cloud. But I was ok with that: all of my ships would be able to shoot, and I was protected as well by the gas cloud. Yet my green Cadet would take a lot of fire, and he had three target locks on him, so I used Agent Terex to grant him a calculate token even if he already had a focus token. I divided my shots a little bit, but the point was not only to score points, but also to get rid of some calculate tokens. The blue gunship wasn't shielded anymore in the end, but I didn't score any points. However, Totem didn't do that much neither: actually, he fired at my green Epsilon Squadron Cadet with all his ships, but only took one shield! Those green tokens proved useful…
Now there would be sideslips. And I really wasn't sure where all those gunships would go. Two of my Cadets (including green with all his target locks) would 4K, I was pretty sure about that (I could hope to block some droids, and to have shots at them wherever they chose to go), but as for the others? My pink Cadet banked to the right, meaning he went through a gas cloud, but I hoped he could get at a gunship if it sideslipped to the left. The blue Baktoid Drone sideslipped but bumped on "Scorch"… yet that meant he would get a good shot at him, even if unmodified. He was followed by the yellow one, who did lock "Scorch". The pink one sideslipped right in front of my pink Cadet, and chose to barrel roll so as to evade his arc. Then DGS-047 turned right, and I was really happy with that, since it would be at range one of both my Cadets who did 4K! And then the green Drone bumped on him… Both "Longshot" and "Scorch" then went straight, but the latter bumped on my pink Cadet; he bumped before moving through the gas cloud, though, and that was something, but he had two Baktoid Drones very close, right behind him… Only one had locked him, though, and Malarus jammed it with the help of Hondo Ohnaka (the pink Drone was coordinated, but he was stressed, obviously; Totem expressed regret for this barrel roll), and, just in case, I gave a calculate token to "Scorch" thanks to Agent Terex. Malarus and "Scorch" immediately took half points on DGS-047, and my green Cadet inflicted a Direct Hit!, but my blue Cadet only scored one more hit: it would survive with one hull left… "Longshot" in the meantime disabled all three shields on the pink Drone, while my pink Cadet only took one shield on the green gunship. All Drones but one (which did nothing on my strained blue Cadet) chose to go after Malarus and took half points on my command ship, which was bad...
All ships or so were packed in the center. Maneuvering would be difficult for both players. My pink Cadet did a 4K (he had started a collection of strain tokens!), while blue turned to the left, and green went straight (not bumping nor moving through a gas cloud, that was cool). Three out of four Baktoid Drones performed a stationary move, meaning they would all be stressed (and couldn't lock!) while the pink one went straight to lose its own stress token. As was to be expected, DGS-047 fled. Then "Longshot" did a Segnor loop just behind the pink Drone. "Scorch" however bumped on my green Cadet after moving through a gas cloud (but he suffered no strain): he wouldn't be able to shoot at anybody. Malarus managed not to bump (which I wasn't expecting actually), and that meant Hondo Ohnaka would perform his magic once again, jamming the pink gunship's lock on my command ship and coordinating a stressed Drone! After what Agent Terex gave his last calculate token to Malarus herself: Terex was now a Cyborg. She immediately took half points on the pink droid, and "Longshot" terminated it thanks to a Fuel Leak: first casualty of the game! My pink Cadet did nothing except for gaining a third strain token, and my green one failed to take half points on the yellow gunship (blue Cadet had nobody in arc). Two unmodified range one attacks on Malarus did nothing, and that was lucky, but the last Drone finally got half points on my green Cadet (inflicting him Blinded Pilot: no more dice modifications, including Malarus' rerolls, for him…).
Two of my Cadets did 4K the next turn, while the pink one went straight, losing one stress and one strain (she still had two others). DGS-047 continued to flee, repairing its Damaged Sensor Array. All three surviving Baktoid Drones bumped, however: still no mods for them! "Longshot" then bumped on Malarus, having no other choice, while "Scorch" performed a Segnor loop so as to go back in the fight. A big thing for me: Malarus managed to escape, although she had to move through a gas cloud and strained herself (no Hondo this time); she wouldn't shoot at anybody, but she had increased the range of the Baktoid Drones' attacks, and that was something. "Longshot" scored half points on the blue gunship, and my pink Cadet managed to kill him thanks to a Direct Hit!, but it would still be able to shoot back, being the same initiative value, and he killed my green Cadet, first casualty on my side. Nevertheless, that was the second Drone I had killed, and DGS-047 wasn't in the best of shape…
My remaining Cadets closed on the Baktoid Drones, but they both went after Malarus, although doing this they both moved over a gas cloud: still no mods for them. DGS-047 finally went back in the fight… but I was hoping that, and had sent "Scorch" right in front of it, although that meant he as well moved over a gas cloud and got a strain token. I wasn't sure "Longshot"'s 4K would allow him to shoot this turn, and Malarus turning left wouldn't allow her to escape the Drones. But she could use Hondo Ohnaka once again, this time earning "Scorch" a focus token while jamming a stressed "Longshot". Malarus shot at DGS-047, but I chose not to spend her calculate token: she might need it to resist the Baktoid Drones. "Scorch" anyway was supposed to get rid of the droid, he had only one hit to score to achieve that, and he did; so well actually that he didn't have to spend his focus token, just in case. Third casualty for Totem, and initiative kill! And as it happened, "Longshot" did have the Baktoid Drones in arc, even better, the yellow one was at range 3! Half points once again… and soon my Cadets killed it. Second casualty of the round for Totem, although he could still attack with it… but the Baktoid Drones did nothing to Malarus.
The score was 161-55 in my favour, but Totem had only one gunship left, against five of my six ships, and he chose to concede. Which is understandable, but always a bit sad… He could have scored some more points, at least taking half on one of my ships, although that would not be that easy, and I understand his decision. The concession meant that I scored all points for his list, which is certainly useful for MoV, so thanks for that as well, Totem.
And so, victory, 200-55. Good game, Totem! I hope you still had a fun game, and I wish you the best of luck for the remainder of the tournament!
So I'm 3-1 now… We'll see next week what happens in round 5. See you soon!